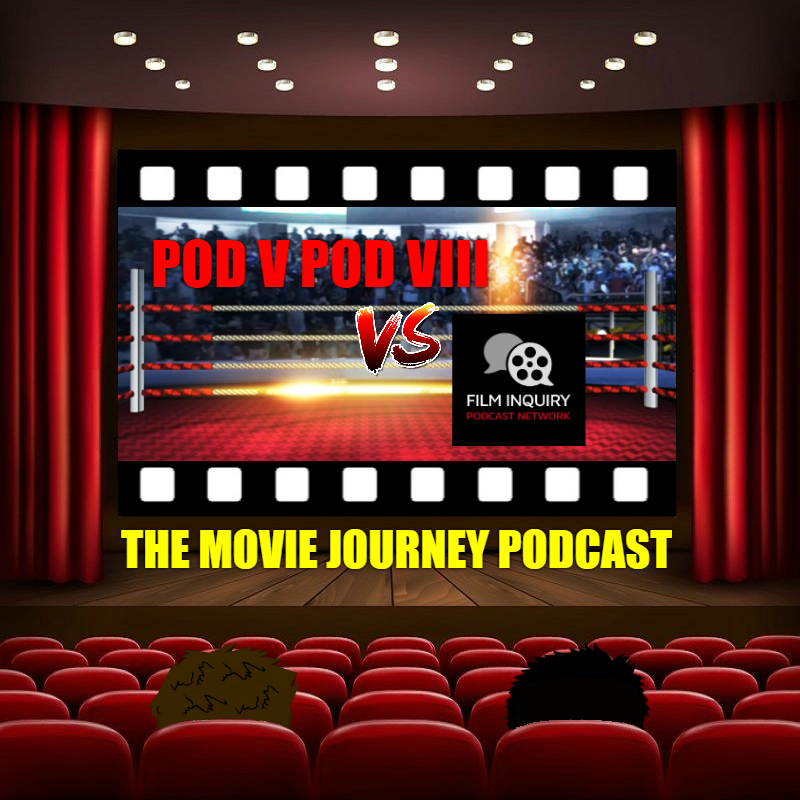 We've got our hands full this week for 'Pod v Pod VIII' where John Mark & Jay from The Film Inquiry Podcast Network come in and take us on in our usual quizzes, including a movie draft on 'Directorial Debuts'. Some awesome movies selected by both!
We then go through some responses to our Question of the week, and give our 'Top 5 Remakes'. We then find our who made it through the Elite 8 in our 'Best Director Tournament', including a 51% victory by one director!
We then take some time to discuss what else we've been watching this week, including Bad Times At The El Royale, First Man & A Star Is Born.
So come on in and join our journey!
If you enjoy our show, please support the podcast by becoming a patron! For as little as a dollar a month, there's plenty of rewards and benefits we have lined up for you along the way, including a weekly patron only podcast where we breakdown movies not on the Top 250 list, and the ability to shape the podcast the way you would like it! So please go and check out the page, see if anything interests you, and we hope you can join our little community and help make this podcast grow!
https://www.patreon.com/themoviejourney
FOLLOW US:
Twitter: https://twitter.com/themoviejourney
SHOWNOTES
Introduction (0:00)
Promos: Epic Film Guys, The Film Inquiry Podcast Network (2:55)
Pod v Pod VIII (4:31)
Pop Quiz Asshole (6:18)
Don't I Know You? (22:21)
Movie Draft (33:40)
Question Of The Week (42:59)
Our Top 5 Remakes (45:19)
Best Director Tournament Elite 8 Results (46:15)
Promos: The Countdown, Coming Off The Reels (47:52)
What Else We've Been Watching (SPOILER FREE) (50:41)
MOVIES REVIEWED:
-A Star Is Born
-Bad Times At The El Royale
-First Man
-Juliet, Naked
-Mile 22
-Not Another Teen Movie
-Searching
-Sorry To Bother You
-Teen Titans Go! To The Movies
-The Director And The Jedi
-The Kindergarten Teacher
-The King Of Comedy
-The Spy Who Dumped Me
-Thunder Road
-Thoroughbreds
This episodes promos are from The Epic Film Guys! (@EpicFilmGuys) In-depth discussion with a heap of comedy since 2014. Proud member of the indie podcasting community & working hard to make a difference. Tune in, don't be shy. Easily one of our favourites, go ahead and check them out! http://www.epicfilmguys.com/
As well as this episodes guests, The Film Inquiry Podcast Network! (@filminquirypod) New episodes every week. Voted best movie podcast by the people who make their content. Go ahead and check them out! https://www.filminquiry.com/
As well as The Countdown Movies & Television Reviews Podcast! (@thecountdown) Join fellow Aussies Paul & Wayne as they countdown their top 10 lists of all things movies (and occasionally TV) and bring their hilariously crude and delightful banter to each of their episodes. A very high recommend from us over here! https://thecountdownpc.podbean.com
And finally The Coming Off The Reels Podcast! (@offthereels) Charming nerds talking movies. They don't always agree, but the conversation is always fun. New episodes every Wednesday! High recommend from us! h
ttps://www.comingoffthereels.com/
Check all these great podcasts out!
Play Now