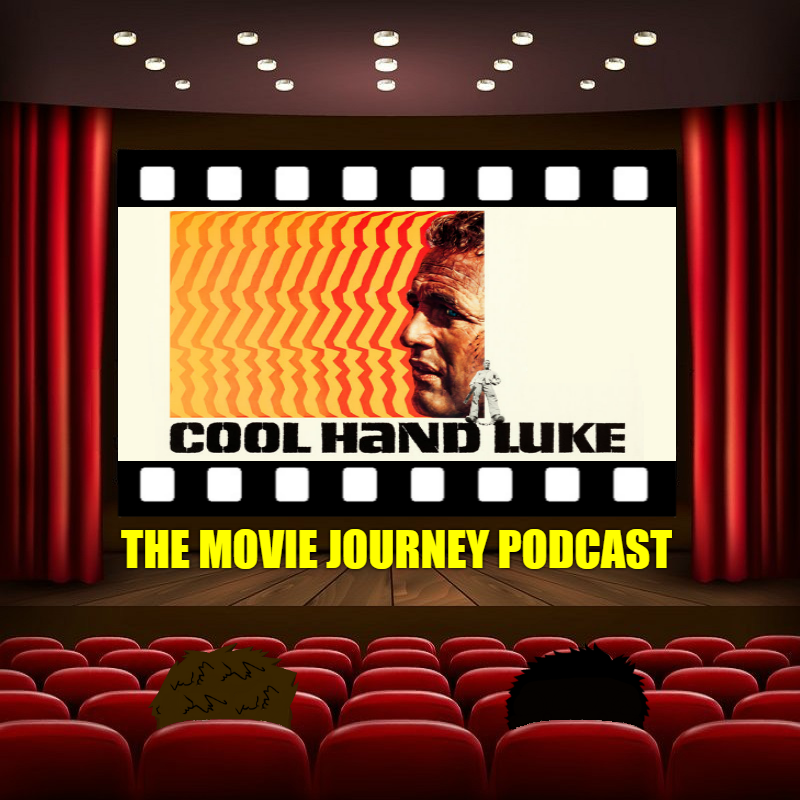 There's no failure to communicate here! Today we're breaking down the 1967 prison classic, Cool Hand Luke. Listen along as Daniel wonders about a hot box glory hole, Dean lets us know his skills in eating a special kind of whole egg, and we both give our best attempts at Southern American accents.
As well as the breakdown, we give our 'Top 5 prison films' and find out the results of Pod v Pod IX in our 'MCU films without Iron Man' draft. We also start up our new tournament series of best movies per decade, starting with the 1940's, and find out what movie we'll be watching next!
So come on in and join our journey!
If you enjoy our show, please support the podcast by becoming a patron! For as little as a dollar a month, there's plenty of rewards and benefits we have lined up for you along the way, including a weekly patron only podcast where we breakdown movies not on the Top 250 list, and the ability to shape the podcast the way you would like it! So please go and check out the page, see if anything interests you, and we hope you can join our little community and help make this podcast grow!
https://www.patreon.com/themoviejourney
FOLLOW US:
Twitter: https://twitter.com/themoviejourney
SHOWNOTES
Introduction (0:00)
IMDB Top 250 Update (5:03)
Promos: Karaok Big E, For Better Or Worse (7:14)
Cool Hand Luke Breakdown (SPOILERS) (8:58)
Final Thoughts (55:15)
Our Rankings (57:18)
Promos: Go Postal, The Contrarians (58:12)
Listener Reviews (1:01:57)
Listener Question (1:03:20)
Our Top 5 Prison Films (1:07:17)
Pod v Pod IX Results (1:10:28)
1940's Films Tournament (1:13:11)
Next Week's Movie (1:13:57)
This episodes promos are from the Karaok Big E Podcast! (@KaraokBIGE ) The best (one of the only?) karaoke podcast around! https://karaokbige.com/
As well as the For Better Or Worse Podcast! (@fbowpod ) A podcast where a married couple with opposite tastes force each other to experience their movies and hobbies, then they talk about it! https://followthis.media/fbow
As well as the Go Postal Podcast! (@GoPostalPodcast) Karla and Michael read crazy ramblings and anecdotes peppered with history and fun facts from around the world! Tell them yours! https://itunes.apple.com/us/podcast/go-postal-podcast/id1355561435?mt=2
And finally former Pod v Pod contenders The Contrarians! (@ContrarianPrime) Alex & Julio challenge popular opinion by praising the movies you hate and trashing the movies you love. A great listen! http://www.wearethecontrarians.com/
Check out all these awesome podcasts!
Play Now