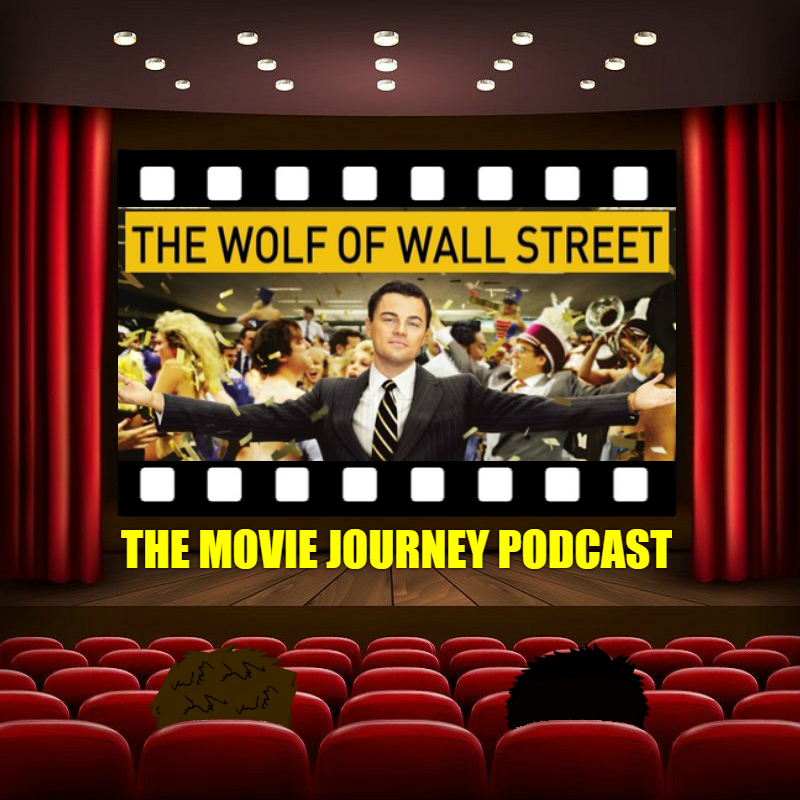 Get ready to beat that chest! This weeks episode is a Patron requested breakdown from Chris Beardsell, and he's gone with Martin Scorsese's 'The Wolf Of Wall Street'! Listen on as Daniel makes one too many 'lude' comments, Deans jealous side shows up, and we both have a hard time choosing our 'Excellent'.
As well as the breakdown, we give our 'Top 5 Leonardo DiCaprio Films' and find out the results of our Pod v Pod XX in our '1999 Films (Not on the IMDb Top 250 List)' draft. We look at the Sweet Sixteen matches of our 'Best Film of the 1970's' tournament, and then we'll find out what film Daniel is choosing to break down next time!
So come on in and join our journey!
If you enjoy our show, please support the podcast by becoming a patron! For as little as a dollar a month, there's plenty of rewards and benefits we have lined up for you along the way, including early access to this main show, as well as a weekly patron only podcast where we do mini breakdowns of films not on the top 250 list. So please go and check out the page, see if anything interests you, and we hope you can join our little community and help make this podcast grow!
https://www.patreon.com/imdbjourney
SHOWNOTES
Introduction (0:00)
Movie Watching Challenge Update (2:47)
Promos: The Cretins Guild, Music You're Missing (5:57)
The Wolf Of Wall Street Breakdown (SPOILERS) (8:35)
Final Thoughts (1:11:11)
Our Rankings (1:13:41)
Promos: The Cinema Guys, Jake & Tom Conquer The World (1:14:46)
Listener Reviews (1:18:36)
Listener Question (1:21:49)
Our Top 5 Leonardo DiCaprio Films (1:24:44)
Pod v Pod XX Results (1:25:50)
1970's Film Tournament Sweet Sixteen Matches (1:28:34)
Our Next Movie (1:29:45)
LISTEN ON:
iTunes: https://itunes.apple.com/au/podcast/the-imdb-journey/id1325000302
Whooshkaa: https://player.whooshkaa.com/shows/the-imdb-journey
Spotify: https://open.spotify.com/show/1W7xYjmwAaRnbWqDIe6zhc?si=315Szz5iT5a48hSf1oKyXA
Podbean: https://www.podbean.com/podcast-detail/d4gpd-617e5/The-IMDB-Journey-Podcast
Radio Public: https://radiopublic.com/the-imdb-journey-Wez702
TuneIn: https://tunein.com/podcasts/Film/The-IMDB-Journey-p1119938/
iHeartRadio: https://www.iheart.com/podcast/the-imdb-journey-29496685/
Stitcher: https://www.stitcher.com/podcast/daniel-henderson/the-imdb-journey
FOLLOW US:
Twitter: https://twitter.com/imdbjourney
Facebook: https://www.facebook.com/imdbjourney/
Letterboxd: https://letterboxd.com/imdbjourney/
Daniel: https://letterboxd.com/Hendo/
Dean: https://letterboxd.com/deano_j88/
This episodes promos are from The Cretins Guild! (@CretinsGuild) Jay, Corey, and Bob are The Cretins Guild. They give reviews and opinions on topics they are well viced on such as Video Games, Theme Parks, Movies, TV, Comics, WWE, Tiki,… hell they did a segment just on pizza! Check them out! https://nerdornot.podbean.com/
As well as Music You're Missing! (@BrendanJeanetti) Ever come across a song with millions of streams but you aren't too familiar with the artist? Brendan Jeannetti offers a chance to learn more about the up and coming recording artists behind these tracks in this interview style podcast. Listen along as these rising stars dissect their music, discuss their artistry, and share their aspirations. Check it out! https://podcasts.apple.com/us/podcast/music-youre-missing/id1460209054
As well as The Cinema Guys! (@offthereels) 3 friends (Brad, Justin and The Cinemaiden) left unsupervised to chat movies! Check them out! http://wearethecinemaguys.com/
And finally Jake & Tom Conquer The World! (@thedrunkendork) Talking about comic books, movies & booze, Jake & Tom give you the show your guidance councilor warned you about!
Check out all these awesome podcasts!
Play Now