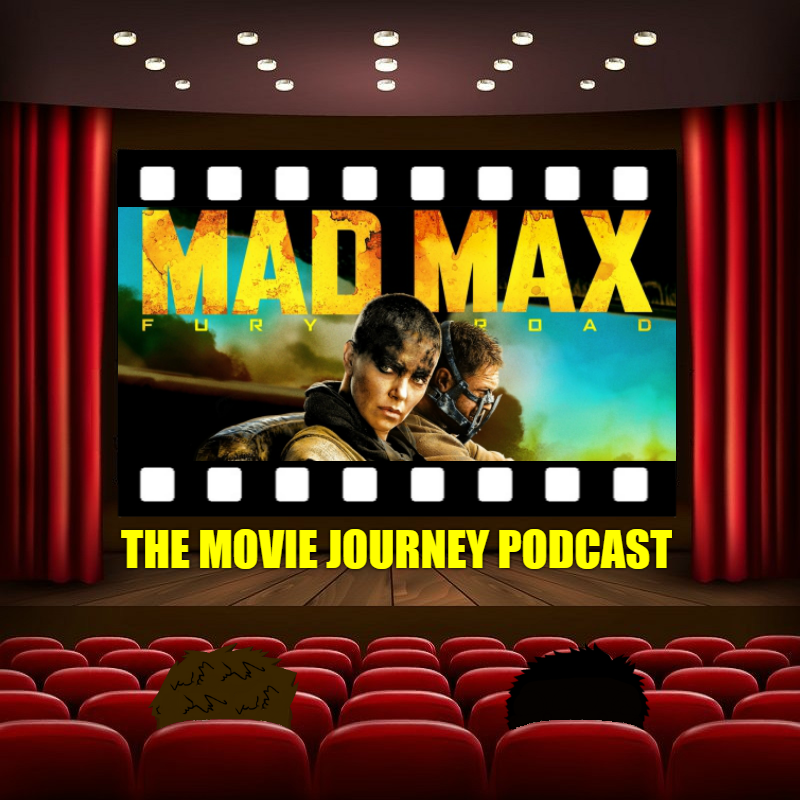 WHAT A LOVELY DAY! It's Daniel's pick for the breakdown this week, and he has selected 2015's 'Mad Max: Fury Road'! Join us as Daniel can't stop frothing, Dean wonders about the purpose of names, and we both can't stop saying 'practical'.
As well as the breakdown, we give our 'Top 5 Post Apocalyptic Films' and see who has won our latest competition! We check out who won our first Bro v Bro movie draft, look at the qualifying round results of our 'Best Film of the 1990's' tournament, and then after all of that, we find out what film Dean has chosen to break down next!
So come on in and join our journey!
If you enjoy our show, please support the podcast by becoming a patron! For as little as a dollar a month, there's plenty of rewards and benefits we have lined up for you along the way, including early access to this main show, as well as a weekly patron only podcast where we do breakdowns of films not on the top 250 list. So please go and check out the page, see if anything interests you, and we hope you can join our little community and help make this podcast grow!
https://www.patreon.com/imdbjourney
If you're looking for a brand new way to listen to our podcast, why not check out 'Podcoin', where you get paid points as you listen and can exchange for great rewards or even donate to charity! Sign up using the code 'IMDBJourney' for a bonus 300 points and start listening there!
SHOWNOTES
Introduction (0:00)
IMDB Top 250 Update (3:40)
Mad Max: Fury Road Breakdown (SPOILERS) (5:40)
Final Thoughts (51:22)
Our Rankings (53:48)
Podcast Shout Out: Online Warriors Podcast (55:17)
Listener Reviews (59:14)
Question Of The Week (1:05:44)
Our Top 5 Post Apocalyptic Films (1:08:34)
Competition Results (1:09:40)
Bro v Bro Draft Results (1:10:28)
Best 1990's Film Tournament Qualifying Results/Next Matches (1:12:51)
Our Next Movie (1:15:02)
LISTEN ON:
iTunes: https://itunes.apple.com/au/podcast/the-imdb-journey/id1325000302
Whooshkaa: https://player.whooshkaa.com/shows/the-imdb-journey
Spotify: https://open.spotify.com/show/1W7xYjmwAaRnbWqDIe6zhc?si=315Szz5iT5a48hSf1oKyXA
Podbean: https://www.podbean.com/podcast-detail/d4gpd-617e5/The-IMDB-Journey-Podcast
Radio Public: https://radiopublic.com/the-imdb-journey-Wez702
TuneIn: https://tunein.com/podcasts/Film/The-IMDB-Journey-p1119938/
iHeartRadio: https://www.iheart.com/podcast/the-imdb-journey-29496685/
Stitcher: https://www.stitcher.com/podcast/daniel-henderson/the-imdb-journey
FOLLOW US:
Twitter: https://twitter.com/imdbjourney
Facebook: https://www.facebook.com/imdbjourney/
Letterboxd: https://letterboxd.com/imdbjourney/
Daniel: https://letterboxd.com/Hendo/
Dean: https://letterboxd.com/deano_j88/
This episodes promo is from The Online Warriors Podcast! @OnlineWarriors1 A podcast where they discuss the latest in gaming, movies, entertainment, & sports. Check them out! http://onlinewarriorspodcast.com/
Play Now